Water and Wonder - Why Bigfork?
July 12. 2020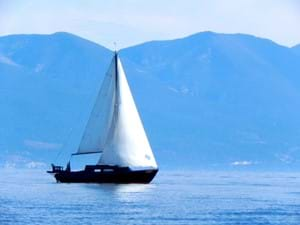 As a couple who have lived in Southern California our whole life, one of the most common questions we are asked is how did we end up with a vacation home in Bigfork, Montana? Many wonder why there?
Well, when we began looking for a vacation home we could enjoy and set up as a vacation rental (VR) property, we literally pulled out a U.S. map, spread it out on the kitchen table and began to circle potential towns.
We already owned a VR in Costa Rica (beach) and Park City, Utah (skiing) so the VR business was not new to us. Having grown up boating with my family, we were looking to share this joy with our son. So our plan was to look for a resort style town that had the most bodies of water such as rivers, lakes, ponds. Along with the water qualification, the ideal town needed lots of trees, forests and mountains full of wild life to offer a true rustic mountain get-away experience.
We narrowed it down to 4 towns in the Pacific North West to explore further; Sand Point ID, Coeur d'Lene ID, Whitefish MT, Bigfork MT. None of which we had ever visited or seen nor knew much about. A long road trip was planned and we hit the road for an adventure in discovery.
Each destination had it's own charm and allure. But when we drove into the Flathead Valley and Bigfork, which is surrounded by mountains, there was such a feeling of expansiveness. We drove in past Swan Lake, Flathead Lake and then the Swan River and Flathead River which were jaw dropping stunning. 
None of the other towns had the same feeling or affect on us. We knew, almost instantly, Bigfork, Montana was calling us home. It was the experience we were wanting and it has never left us. Each time we return we feel that same "first time" wonder. We continue to experience the joy all the water ways bring us and the rejuvenating feeling we benefit from by being surrounded in natural beauty.
Next Blog Post: How we landed at Mystic Mountain