Montana's Barns
December 2. 2020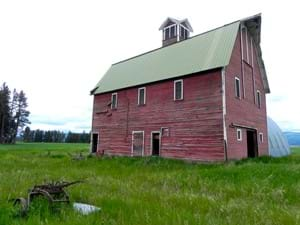 What is it about old barns that intrigue us so? Here in Montana they are a classic and popular photo subject that is an essential part of the cultural landscape. Both regal and forlorn barns still draw us in and hold a rugged appeal. Perhaps it's their history and remnants of family heritage that we feel an attachment to the "story" these barns hold. In the state of Montana alone there is said to be over 6,000 historical barns, many of which are the most threatened historical structures in the state. Most were built between 1880-1920 and time and elements have taken a toll on these structures, most of which have less of a functional purpose in modern day farming.
Many old barns hold tales of despair and capture the honesty and reality of ranching life. Beyond their aesthetic beauty, barns also link us to the rural foundations of the farming culture and the deep respect and connection to living in harmony and balance with the land. Montana's historical barns remind us that people have long been self-sufficient and resilient and are an emblem to rural communities and family enterprise.
Red, white or weathered grey the contrasts against a snowy white landscape and blue sky is often enchanting for a photographer. Have you ever wondered why barns are so often red? Historically, early settlers needed to be resourceful and find cheap way to protect their barn's wood. So they mixed skim milk, linseed oil and rusted iron, as it killed mold and fungi and it had orange-red hue. Red became the most famous among farmers because it was the cheapest. The tradition continues today.