Bigfork - The Village by the Bay
May 23. 2016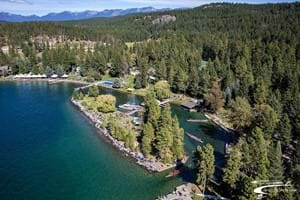 Bigfork, voted one of America's best art cities with countless historical and cultural experiences. Art galleries and The Bigfork Summer Playhouse venue offer several great options to explore.
Bigfork, The Village by the Bay, has been said to be "One of the 50 great towns in the west." Where the swift waters of the swan river joins the Flathead Lake in NW MT, elevation 2,968; where eagle and ospry share skies with peaks of the Swan range in the Rocky Mountains. This rare find is recognized world wide for its pristine rivers, majestic mountains, and wide open spaces, unspoiled land and best of all, people who will warm your heart and inspire you to return.
The Flathead Valley in Glacier Country welcomes travelers with spectacular scenery and jaw-dropping beauty. There are so many ways to enjoy the outdoors you'll have to choose carefully, as you'll never be able to squeeze them all into one vacation. This is a fantastic place to create memories, stir emotions, rejuvenate your body and soul. I invite you to take the time to discover why this special corner of the world should be your next destination.
Flathead Lake: There's lots of room to play on Flathead Lake, located just a short 5 minute drive from Mystic Mountain Retreat. Known as one of the 300 largest natural lakes in the world, it is thy largest freshwater lake west of the Mississippi - 28 miles long, up to 15 miles wide which transfers to 188 square miles of pure enjoyment. Surrounded by national parks, forests and protected lands, the Flathead valley is the gateway to wilderness. Ideal for all outdoor recreation; boating, water skiing or sailing on one of the most expansive lakes. Fabulous fishing with over 25 species of fish found in the lake; Hike on Flathead Lake's largest island, Wild Horse Island.
Glorious Glacier National Park, within a 45 minute drive, is referred to as the crown of the continent, is a stunning presence unlike any place on earth and is a must see! Experience the park's pristine forests, alpine meadows, rugged mountains and spect-acular lakes. It is home to 70 species of mam-mals and 260 species of birds. Designated as an International Biosphere Reserve and a World Heritage Site. Encompasses over 1 million acres of pure and primal beauty from foothill to summit.